Kirsty Wales Mobile Massage Therapies
Kirsty Wales Mobile Massage Therapies
Banffshire
I am based on the Morayshire / Aberdeenshire border near Aberchirder "Foggie"
I cover an area roughly bounded by the A96, A97 and A98 (Click to toggle a map.)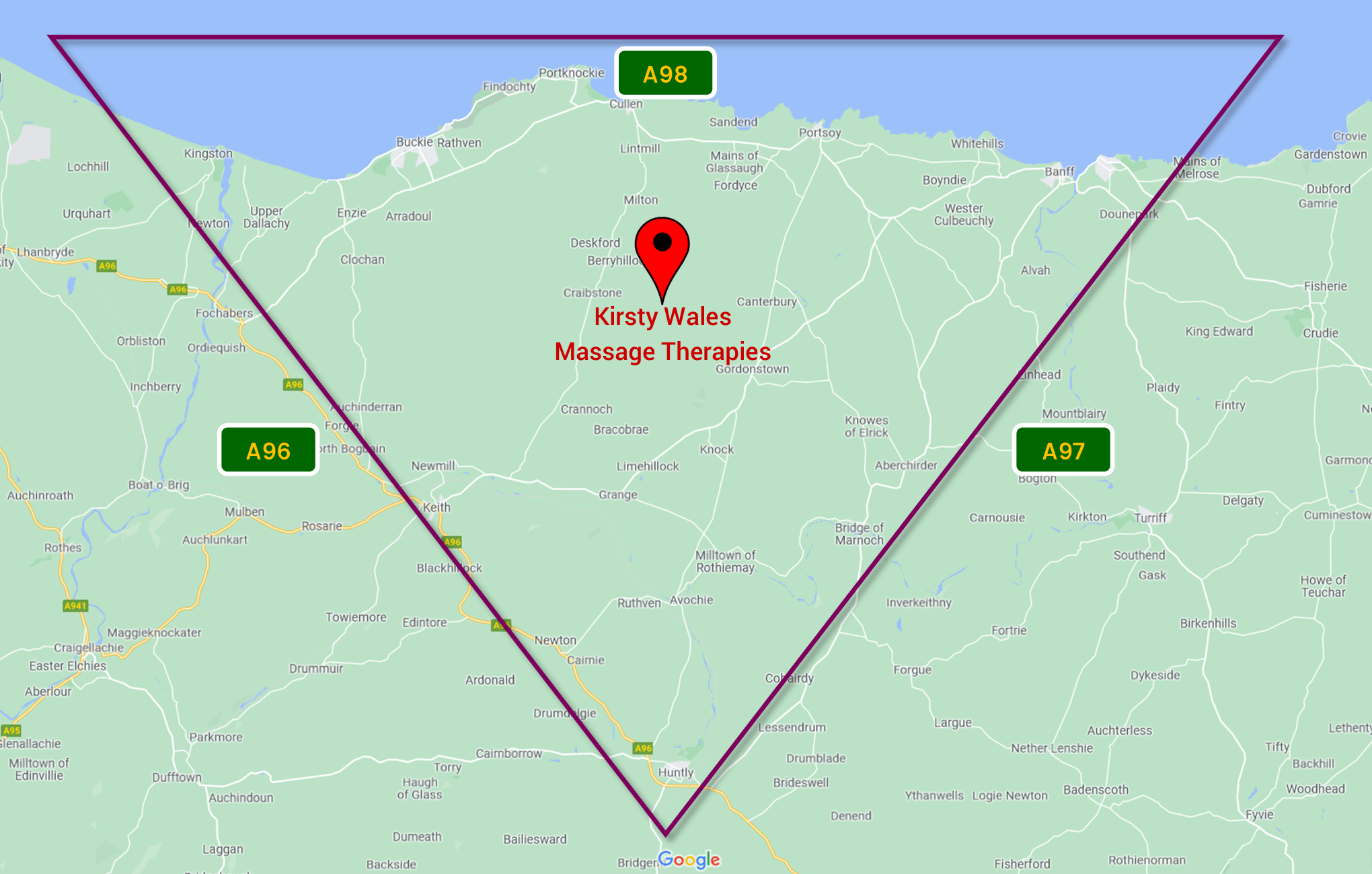 Click here. for a larger, interactive map.
covering towns and villages such as Fochabers, Portgordon, Buckie, Portknockie, Cullen, Sandend, Portsoy, Whitehills, Banff, Cornhill, Fordyce, Foggie (Aberchirder), Keith, Newmill, Huntly and everything between.
Using my specialist massage therapies I help people to maximise their health during cancer and beyond.
Want to find out more? Contact Me and I'll tell you what I can do for you.
Covid Statement
Due to the health and vulnerability of some of the clients I work with, I continue to use PPE where appropriate. It is, of course, your choice if you wish to wear a mask or face covering as well.
If you have any concerns please Contact Me and I will be happy to discuss my Covid Protocols with you.
Thank you and stay safe. 😊
About Me
Who I am and what I do.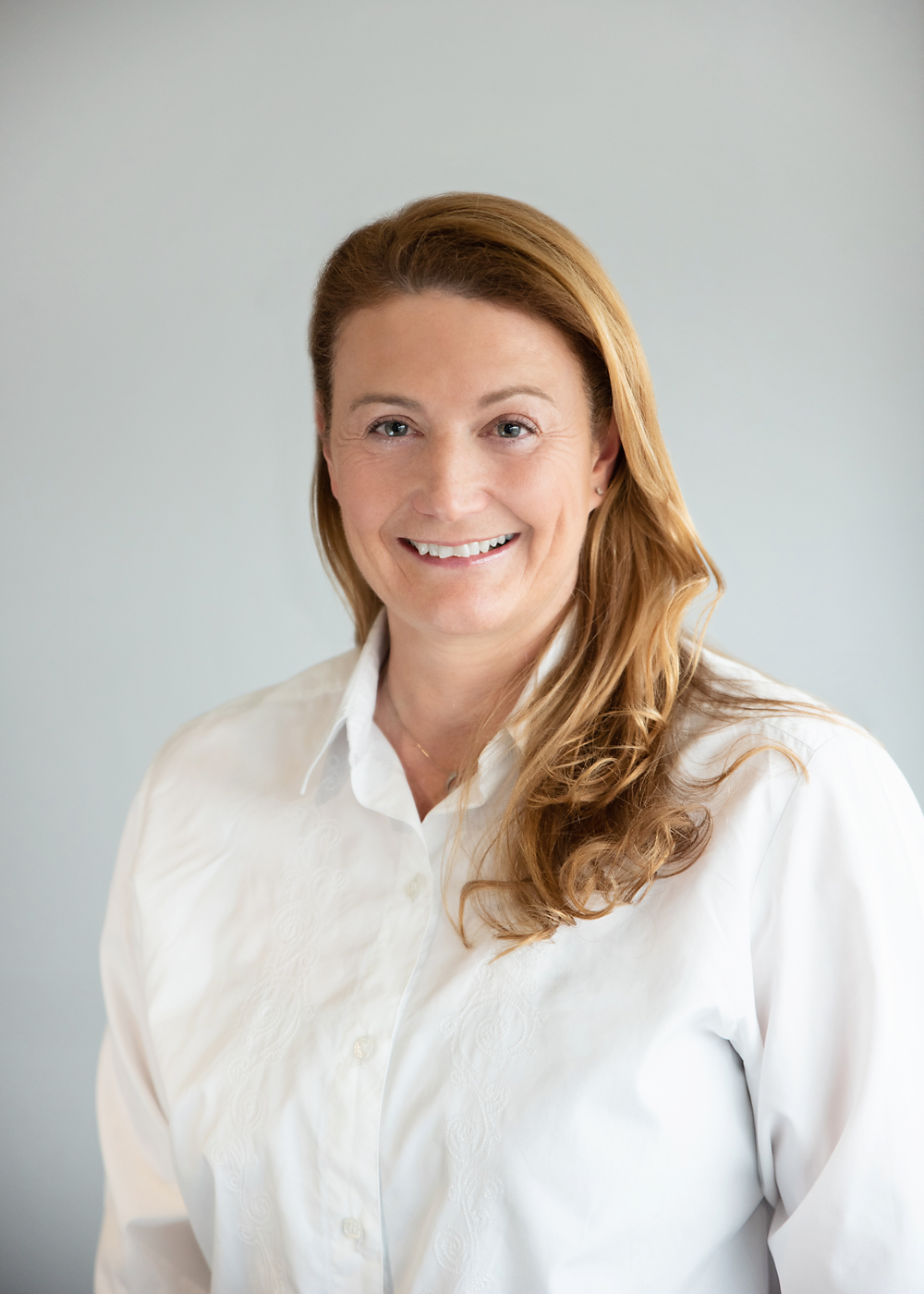 Hello, I am Kirsty, the healing hands and face behind KWMT.
My expertise focusses mainly on Cancer and Lymphoedema related therapies.
I am a qualified oncology massage therapist, ScarWork™ therapist and Breast Cancer ScarWork™ Specialist Therapist. I am also qualified in Manual Lymphatic Drainage.
My love lies in using my specialist massage therapies to help people during cancer and beyond to feel better.
I strive to reduce their recovery times and improve their overall health, whilst, all the time, managing their anxiety and stress levels.
In 2015 I started building my client base and growing the business in West Sussex before re-locating back to Aberdeenshire in December 2021.
Prior to this I was involved in sports and remedial massage alongside my personal training business.
As a child I was fascinated by pictures in a Sunday magazine of Christiaan Barnard performing heart transplant surgery and, having kept the magazine for years, it was from here that my passion in anatomy started.
Sadly, due to our current lifestyles, our bodies simply can't always operate as effectively and efficiently as we would like. Over the years, this became more and more apparent to me as I spent my working time within the education, fitness and personal training industries. Prompted by a desire to do more, I redoubled my studies to understand how the body moves and works. This has resulted in the enhanced massage therapy knowledge I have today.
I have never stopped learning and developing myself, my qualifications, and my skills. I was fortunate to do my oncology training at the renowned North London School of Massage with Susan Findlay, an expert in the field of oncology massage.
I am proud to be a registered Sharon Wheeler ScarWork therapist and to use the skills it has given me to help people post surgery and after life changing traumas. I was trained by Emma Holly of Restore Therapy who has a wealth of experience in this field and has a practice in London's famous Harley Street.
These tailored massage therapies are enriched by the use of specialist skincare ranges by MooGoo®, These skincare products can help to ease so many of the symptoms, side effects and general discomfort, caused by cancer, surgery and its associated treatments and medications.
My mission is to help as many people as I can that are receiving cancer treatments, having operations or are recovering from cancer. The surgery, side effects of these treatments and the effects of the medications can be debilitating to say the least. By using my specialist post-operative and rehab massage therapies I believe the best way to achieve this is for it to all be in the comfort of a client's own home, with no additional travel stress and complications. That is why I chose to be a mobile service that encompasses the upper Morayshire and Aberdeenshire border areas, so I can help people at home. (see where I operate here)
I am delighted to announce that I have also been accepted to work with Clan Cancer Support who are a well-established local charity providing emotional and practical support to people affected by cancer across north-east Scotland, Moray, Orkney and Shetland.
Before moving back to Scotland, I was a very proud and active volunteer at The Olive Tree cancer support centre in Crawley, West Sussex, where I used to attend on a weekly basis. There I saw first hand how this independent cancer support centre gave valuable support, friendship and help to all their members and families. I was incredibly lucky to be part of their team for over 3 years. The centre was awarded The Queens Award for Voluntary Services in 2021 and, as a volunteer who was able to continue supporting members with treatments throughout the pandemic, I was given a personal award as well.
I am a committee member of the Scottish Massage Therapists Organisation and a member of the Complementary Health Professionals.
When I am not working, you might find me out and about in the area, walking my lovely dogs along the beaches or, of course, eating an obligatory ice cream from The Ice Cream Shop in Cullen, or enjoying a scrumptious snack from The Port House Cafe in Portsoy or drinking a warming coffee or hot chocolate from Andrew in the Airstream Caravan "Coffee At The Kings". down on Cullen Beach.
But even a massage therapist needs to be fit and healthy, so you could see me running (a term I use loosely!) around my local area in Deskford as part of my fitness routine.
I have worked with many people from all walks of life and so if you have any queries or questions, whether for you, or a friend, or relative, please contact me and I will do my best to answer and help where I can. I have a passion for helping people feel better and if I can leave a client with less pain or with improved movement, along with a greater sense of wellbeing, it is an amazing reward and one I strive for with every treatment. Every small improvement is a positive step forward to better health and wellbeing.
Where I Cover
I am based near Aberchirder (Foggie),
on the Morayshire / Aberdeenshire border.
I cover an area roughly bounded by the
A96, A97 and A98.
From Huntly to Banff to Buckie to Fochabers to Keith and back to Huntly
Even if you are outside of these areas, give me a call or drop me a line and I'll see if I can accommodate your requirements.
Frequently Asked Questions



Below you will find some often asked questions related to massage.
If your question isn't listed here, drop me a line and I'll do my best to find your answer.
How do I pay?
Payments are made 24 hours prior to your appointment by Stripe, a safe and secure online payment platform (Rather like PayPal). An invoice will be emailed to you with a link to follow to make your payment. Most major credit and debit cards are accepted through Stripe.
I thought massage was just massage. Why are there different therapies?
All massage therapies help to release tension from the muscles and relax the body and calm the mind. Each type of massage will have its own way of targeting the muscles and their problems. For example, aromatherapy utilises natural oils to enhance the senses during the massage, hot stones are applied to the body to increase the warmth of the target area prior to massage. Deep tissue is more appropriate for muscle tension as the therapist works into the deeper tissues of the body rather than superficially. I use a variety of massage techniques to ensure your massage is the best for you.
What do I have to wear?
Comfortable clothing that you can feel relaxed in. It is best to avoid tight fitting or restrictive clothing. Depending on the type of massage you have, it may not be necessary to undress at all.
Can I have someone present with me?
Yes of course by agreement.
I have skin allergies. What oils and lotions do you use?
All conditions and allergies must be disclosed and an appropriate massage medium will be used. If the massage is through clothing, lotion or oil may not be necessary.
I have a skin condition. Can you still treat me?
This will be dependent on the condition itself and gaining your GP's consent.. Normally, massage will NOT be undertaken for any of the following. Vomiting / Diarrhoea, Fever, DVT, Varicose Veins, Infectious Skin Complaints. Please contact me to discuss. It is the client's responsibility to disclose such information at the time of booking or prior to the massage.
I have visible injuries that are being treated. Can you still perform massage on me?
It is most likely that the injury site will not be treated but the surrounding areas may be. Please discuss this with me prior to your session.
I'm physically disabled. What can you do for me?
The sessions are designed to relieve stress, anxiety and reduce muscle tension. Sessions are tailored to your needs. My service is mobile within an area approximately bounded by the A96, A97 and A98 triangle, so I come to your home or workplace.
Do I have to provide a massage table or any other equipment for you?
I will bring all the equipment required for your massage, however, we may utilise your own furniture, towels and pillows to ensure you are as comfortable as possible throughout your massage. It is advisable for the room of your choice to be calming, warm and cosy as this benefits the muscles during the massage. A cold room will make the massage less beneficial and relaxing. You are welcome to play your own suitable background music if you wish.
How much room do you need for you and the table?
The table is 1.9m x 0.9m (6'03" x 3'00") so allowing for space around the table, an area of about 3.0m x 2.0m (10'00" x 6'06") will be required.
Are there any side effects?
Depending on the type of massage you have, it is not uncommon to experience a little reddening or tenderness after your session. You will be encouraged to drink plenty of water after your massage and as part of your daily routine for effective hydration. You may feel more tired as part of being relaxed after the massage, so plan your day suitably if you think this will affect you. Potential side effects will be discussed at the end of your massage along with your aftercare advice.
Will this interfere with any other treatments that I am receiving?
No, GPs consent is obtained prior to any massage and I will work with all the agencies involved in your care to ensure clear communication avoiding any negative effects.
Testimonials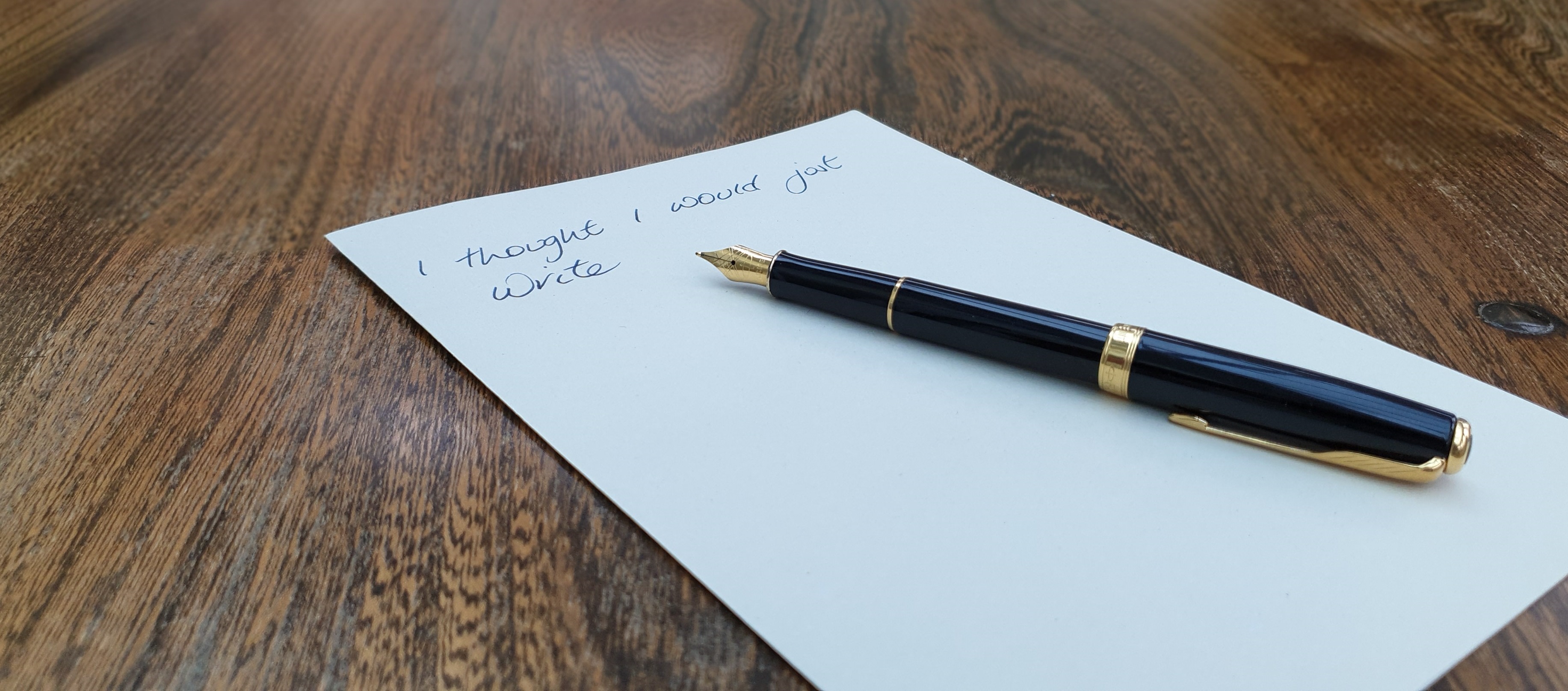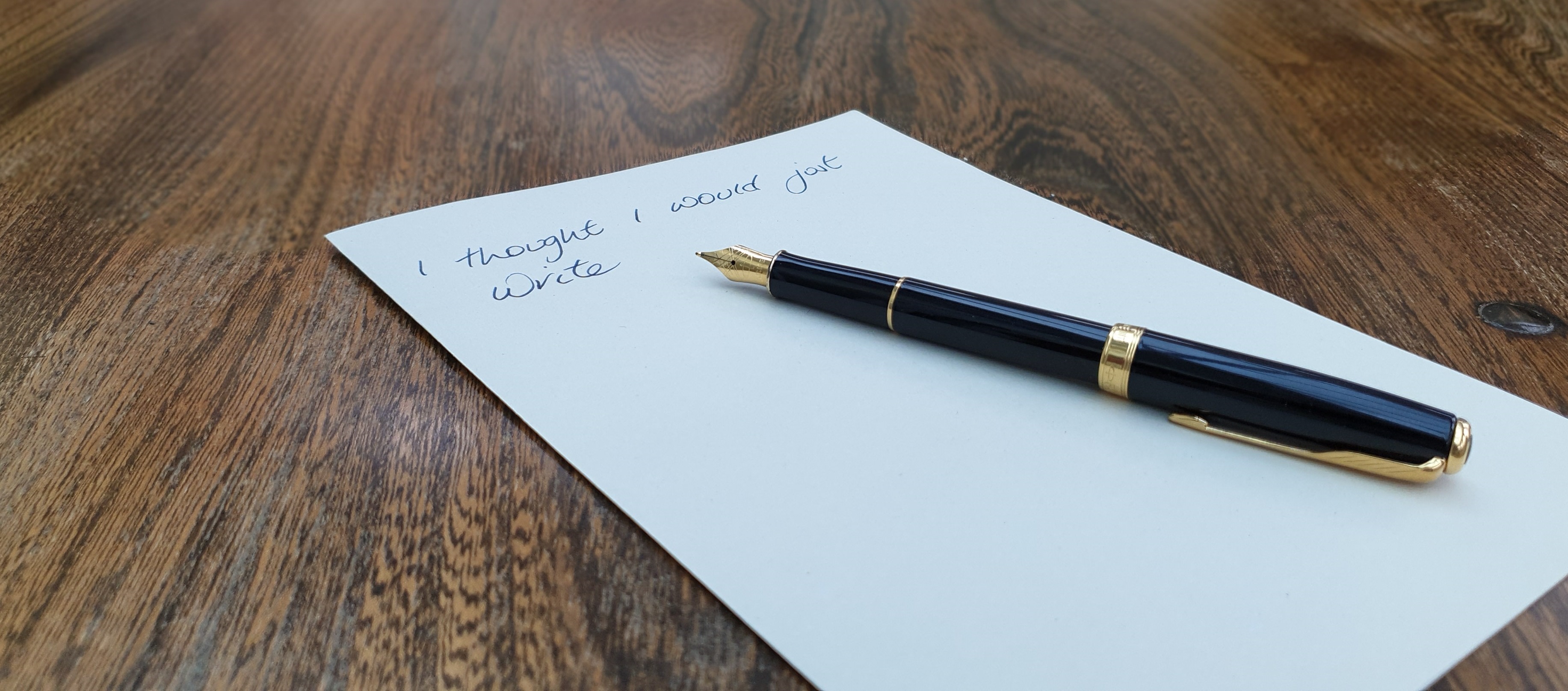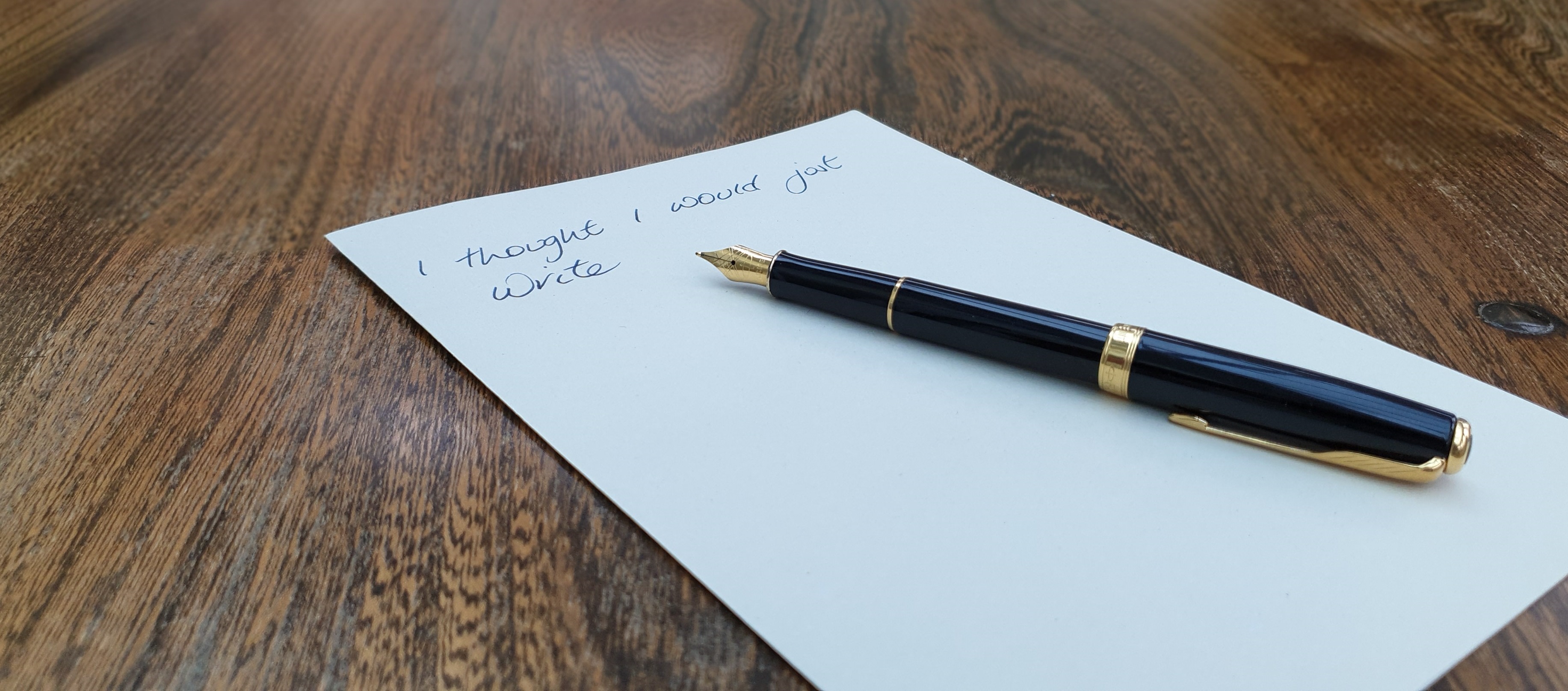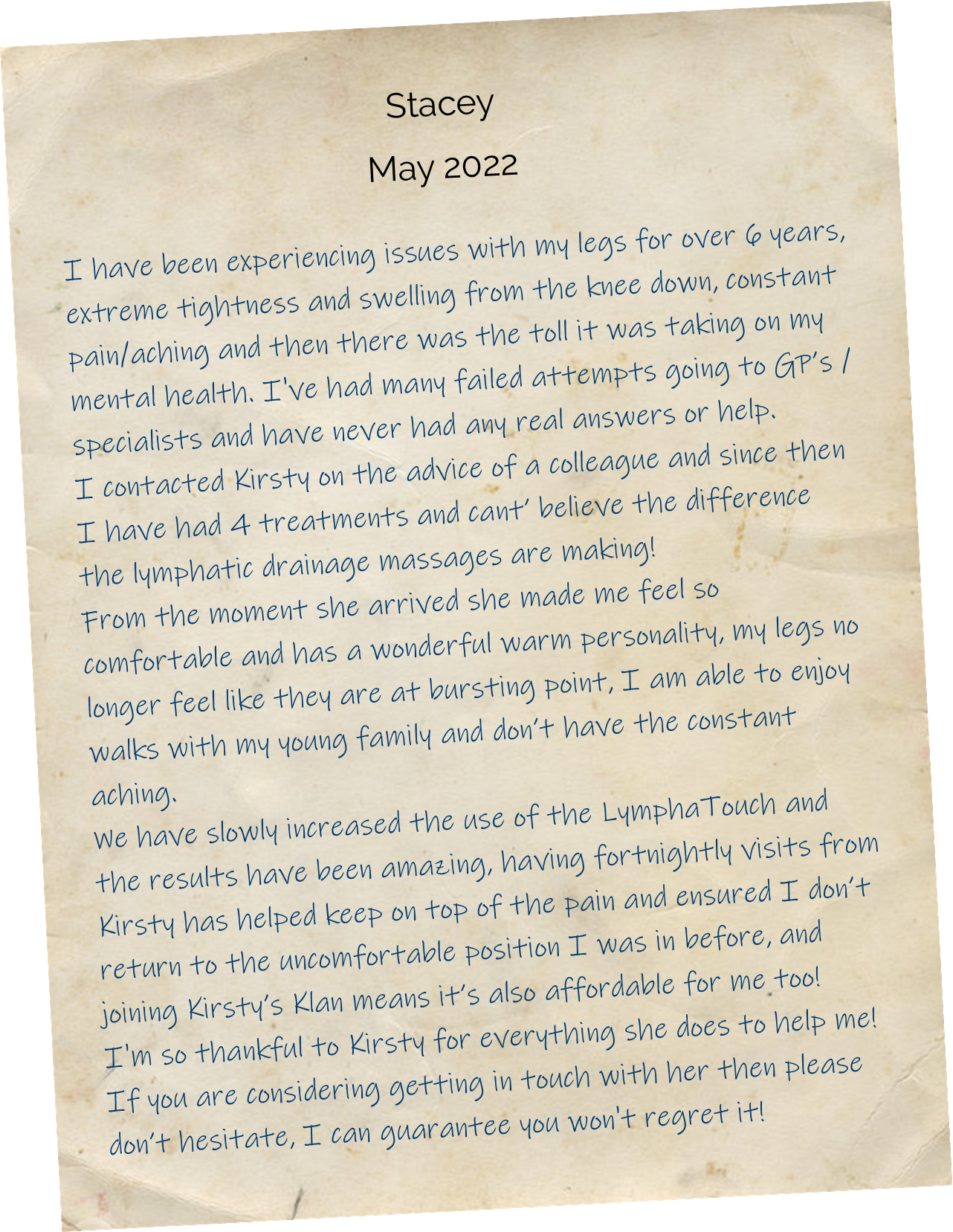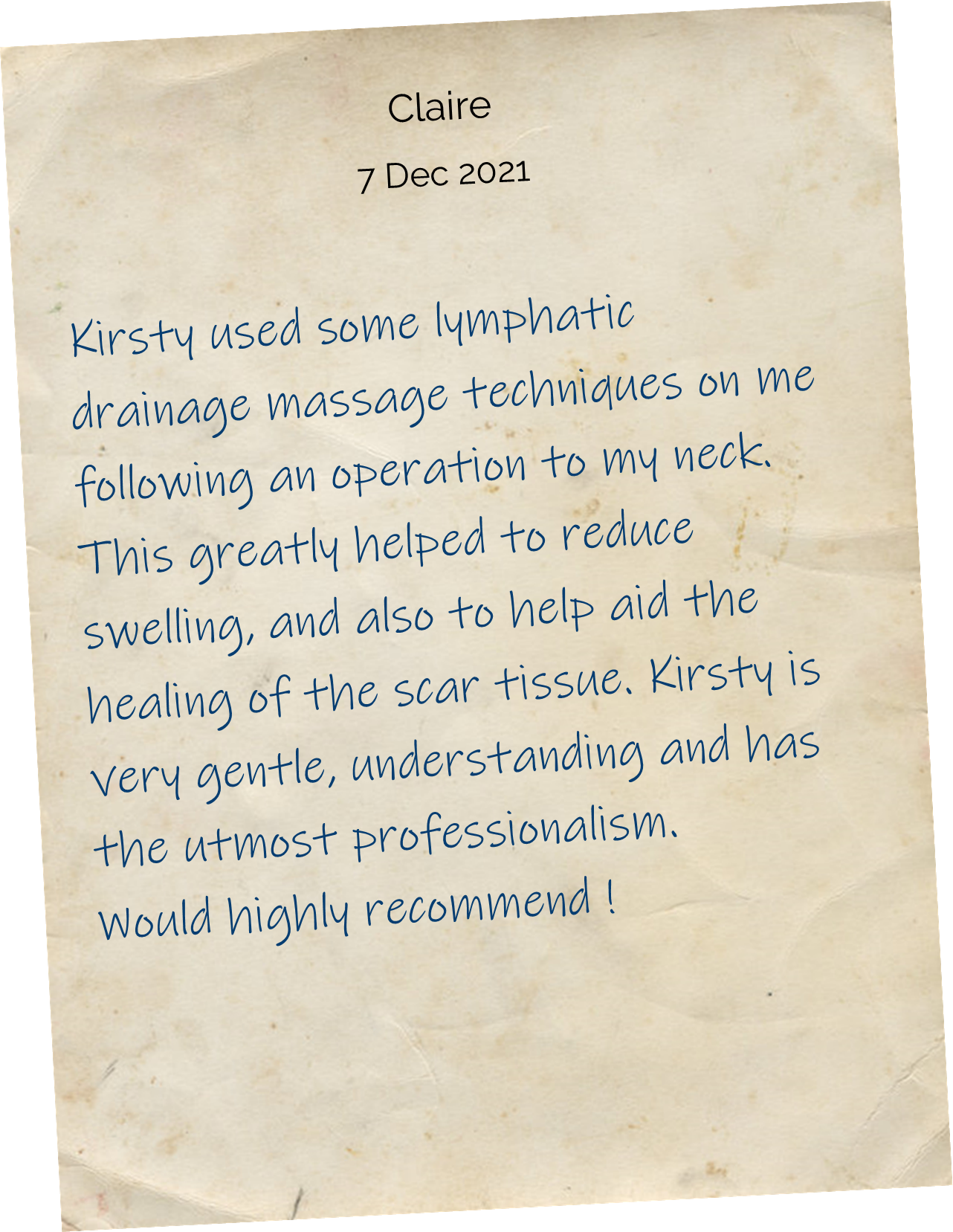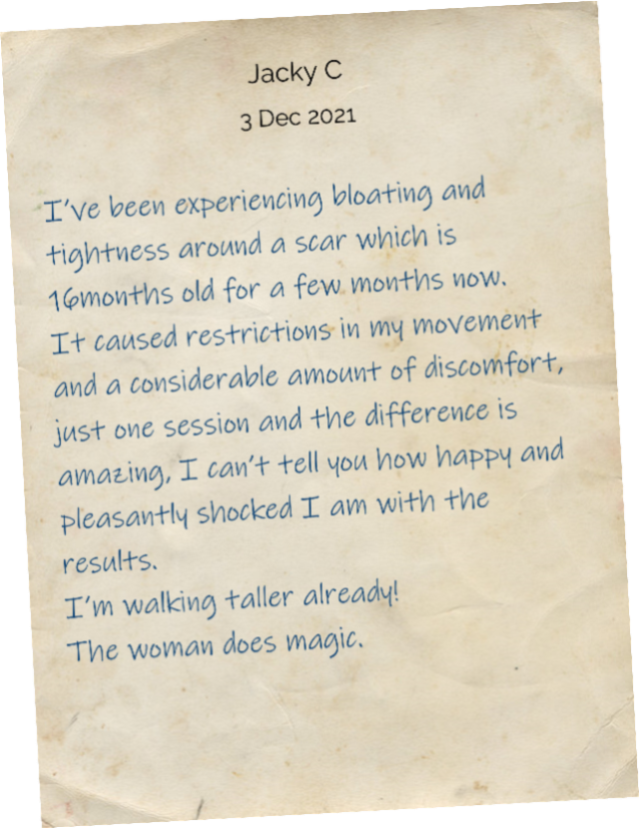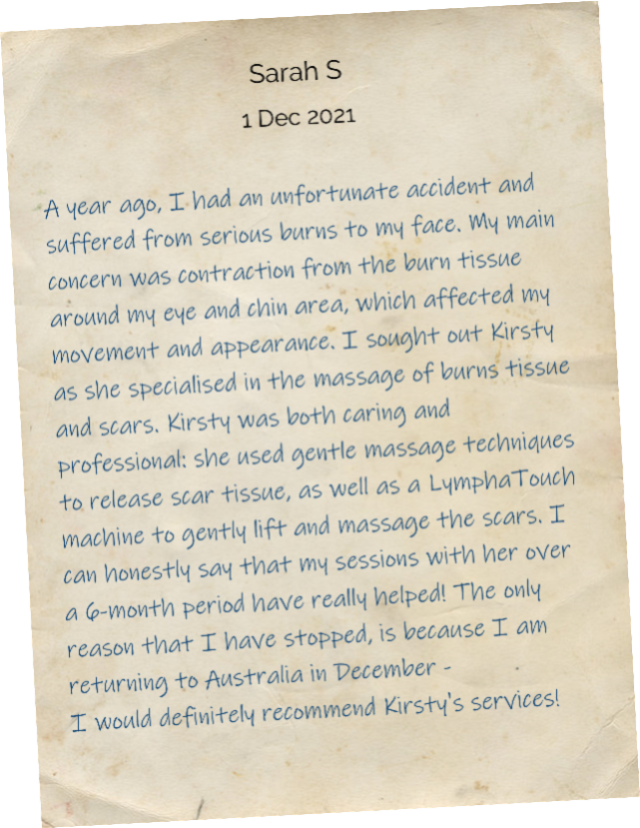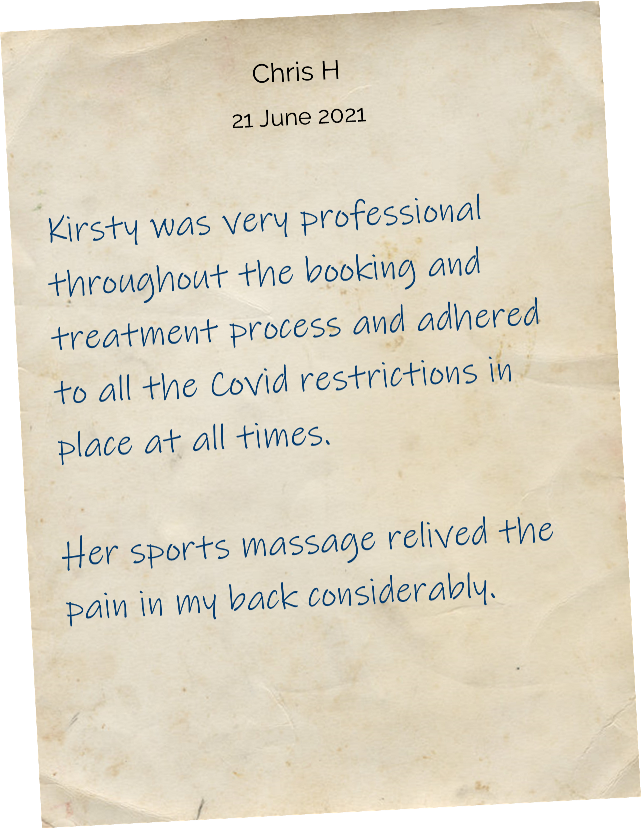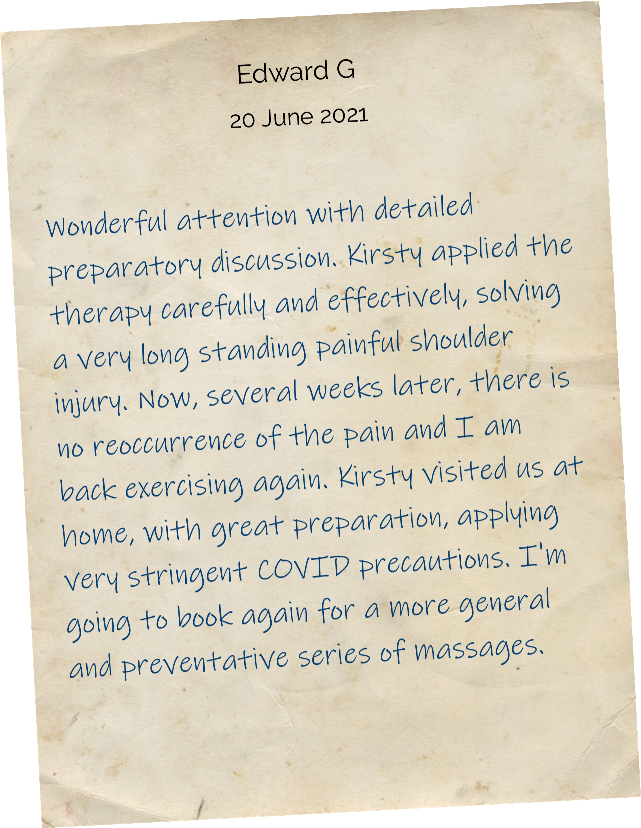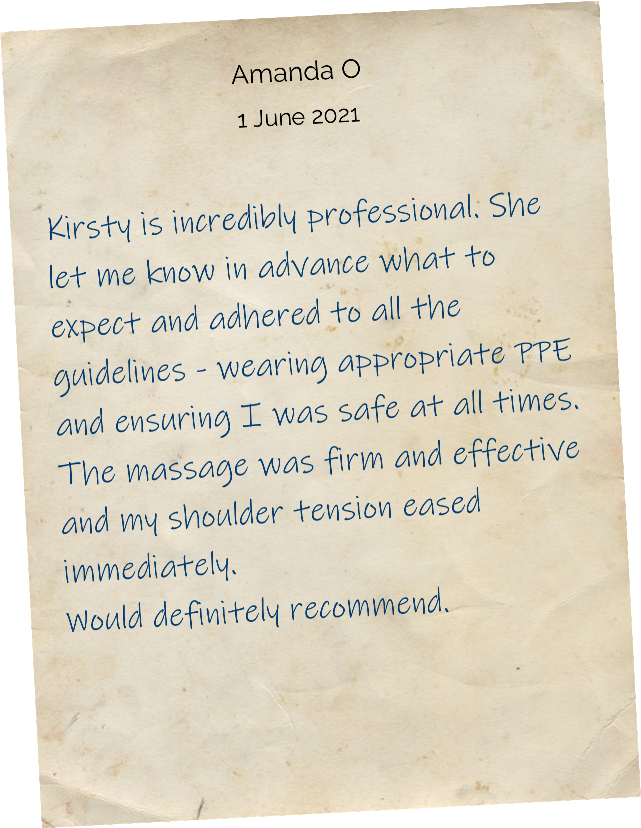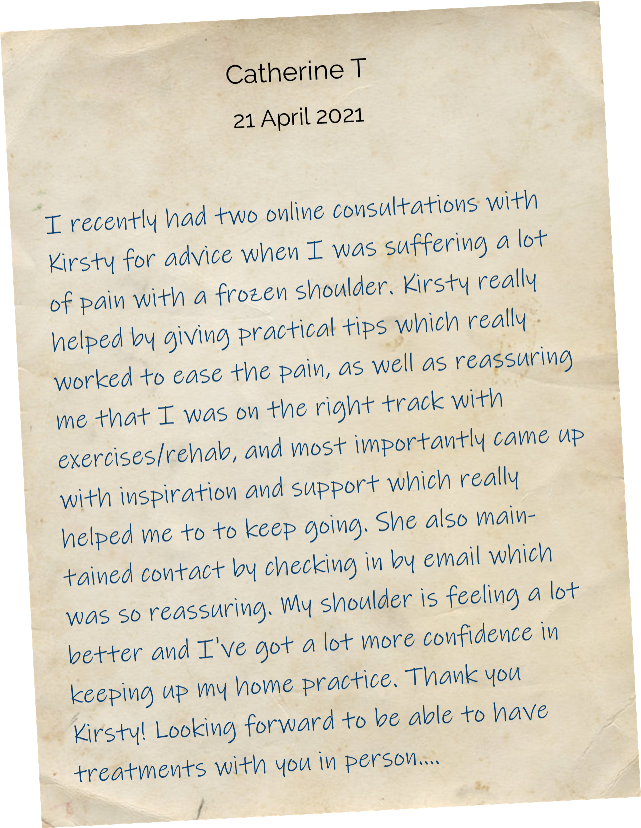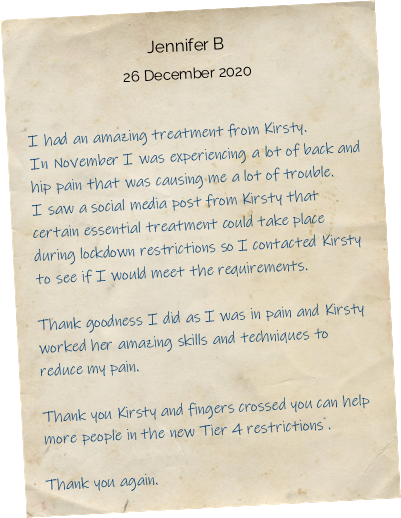 Click on any of the images below to see more testimonals...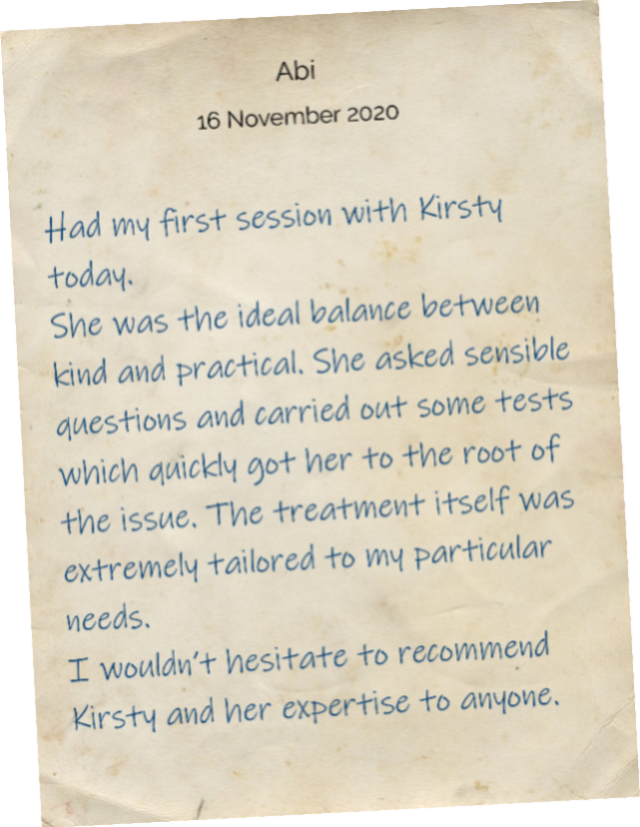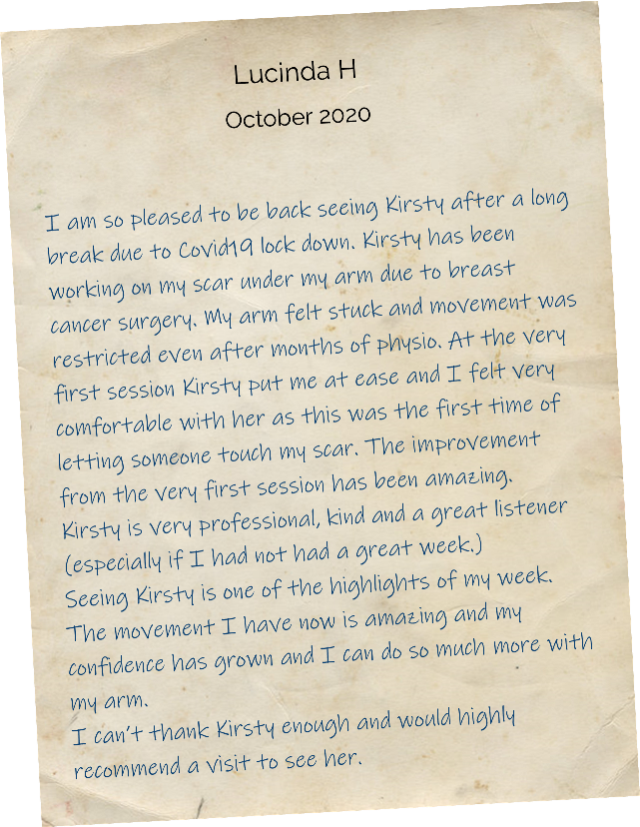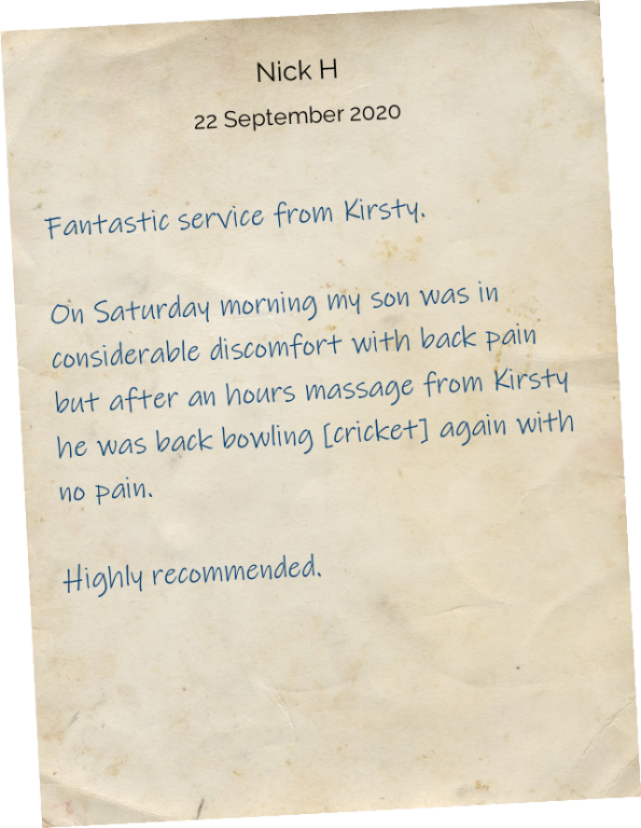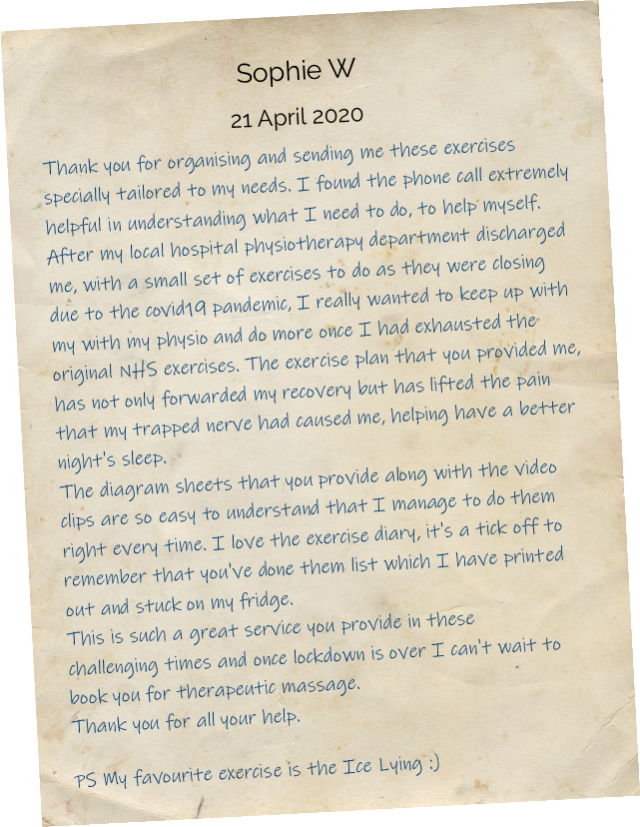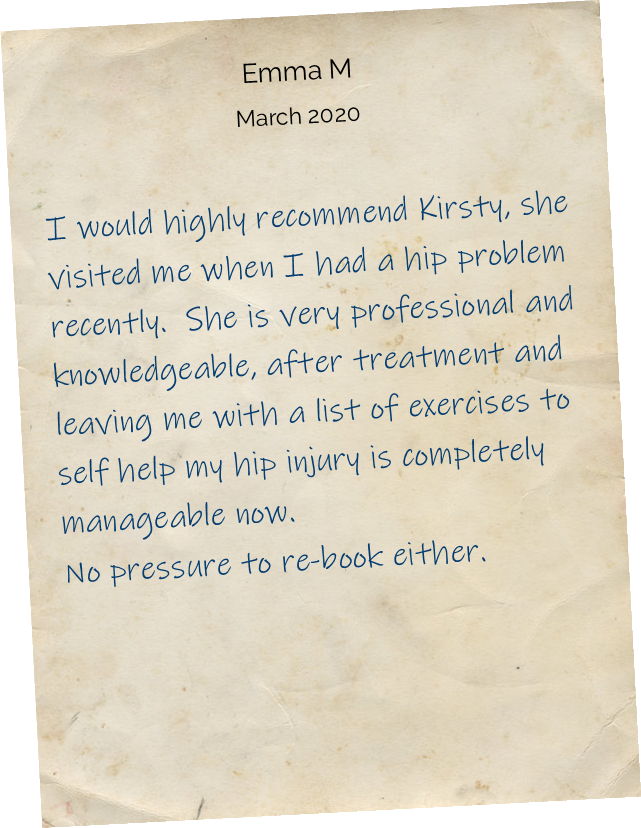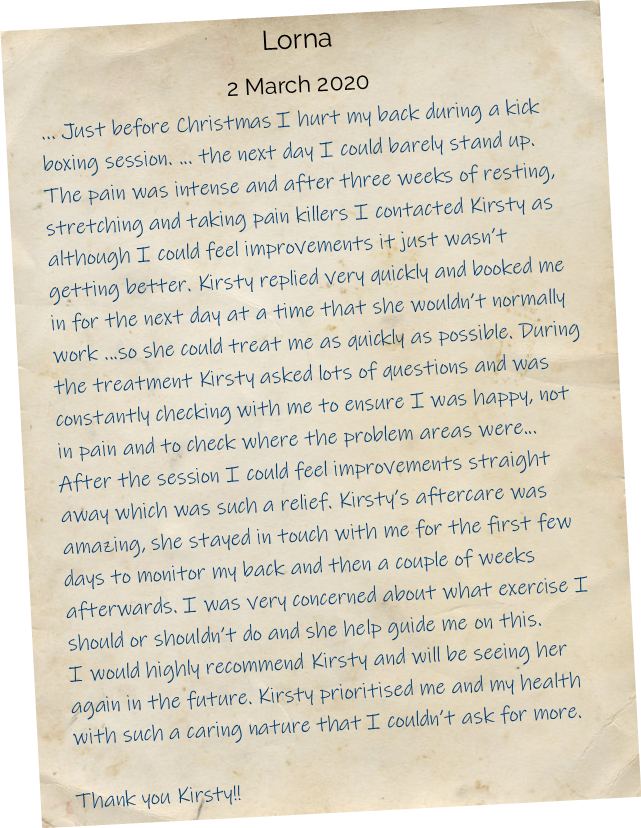 Latest Video
Hello, this is where you'll find my latest update or message on where Kirsty Wales Massage Therapies is.
Follow me on my walks with Haggis and Shadow.
Follow me on my goals and targets.
Follow me on my own fitness and health challenges.
Check back regularly to keep up to date.
Or go to my "Klog" page for all the news.
To find more of my videos please go to my YouTube Channel